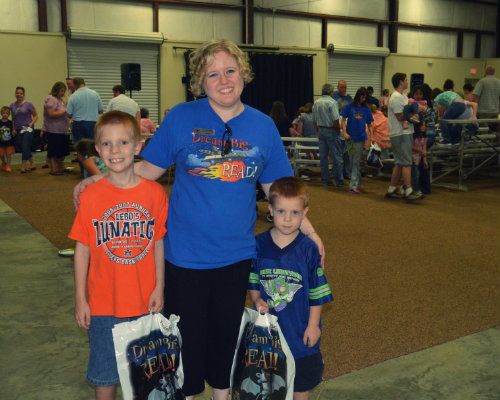 Meet Brandy. She's the boys' librarian. We get to see her almost every Tuesday.
When we attended the library's party for the Summer Reading program, I sought her out so I could get a picture of her and the boys. Because, whether she knows it or not, she is along for the ride of my boys' lives.
Remember the words to the Reading Rainbow theme? "I can go anywhere… take a look, it's in a book!"

It's such an adventure to be a reader, and the books that lead them on that adventure are way too many to hold in our house. So people like Brandy are going to help them find those books in the shelves (real and virtual!) of our local library. This Summer Fuller is going to read 50 books. 25 of those books are from a list I complied. So when we went to the library a few weeks ago, Fuller had his list, took it to Brandy, and she helped him find one (it's on hold, but still).
I hope my boys will remember Brandy when they are older and thinking about to the people who helped shape them.
Do you remember your librarians?