We start school again next Monday, the 13th. As we have for the past two years, we are again participating in the Georgia Cyber Academy, Georgia's public school at home option. It is our twist on schooling at home that works really well for our family.
The past two years we have been assigned a teacher to assist us in making our way from August to May on the learning path. Usually it is around this time we are invited to a teacher "meet and greet." In the case of our kindergarten year the meet and greet was one of two times we actually saw Mrs. H in person. Last year, our first grade teacher had us meet her for our Dibels testing in person, which allowed us to see her a total of three times. Maybe we will see our teacher, Mrs. G, four times this year!
When we go to the meet and greet the teachers usually ask for a photo of the student to keep names and faces familiar to them. And since our interaction is usually virtual, I really liked the idea of giving not just a picture to the teacher, but a little background information on my awesome student, Fuller.
So the Introduction Collage was created.
Meet Kindergarten Fuller
It seems pretty self explanatory. And this version was done in about an hour- I quickly scrawled some Fuller Facts on paper, using his favorite color, and then took pictures of him in the freshly painted schoolroom. I used the now defunct Picnik.com to create the collage and then printed it on our now defunct Epson printer. It was awesome.
Last year, I got a tad more complicated. First, I thought a natural background would be best.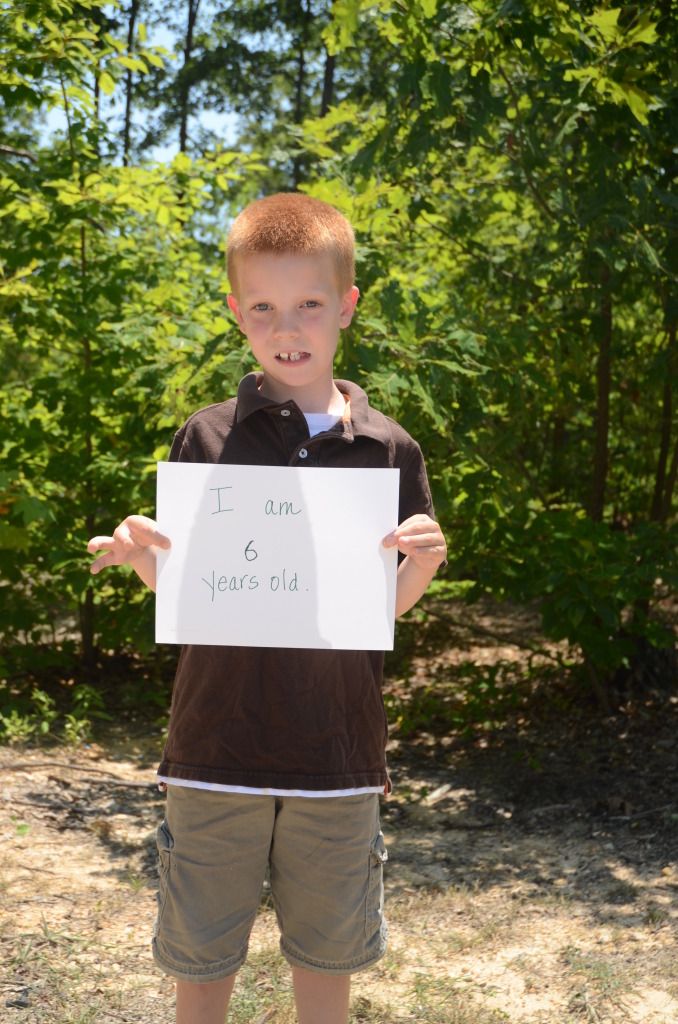 Outside not so great.

But it was too bright for my kid and the photoshoot fell apart.
So, I draped a sheet on the dining room wall and went for the inside shot.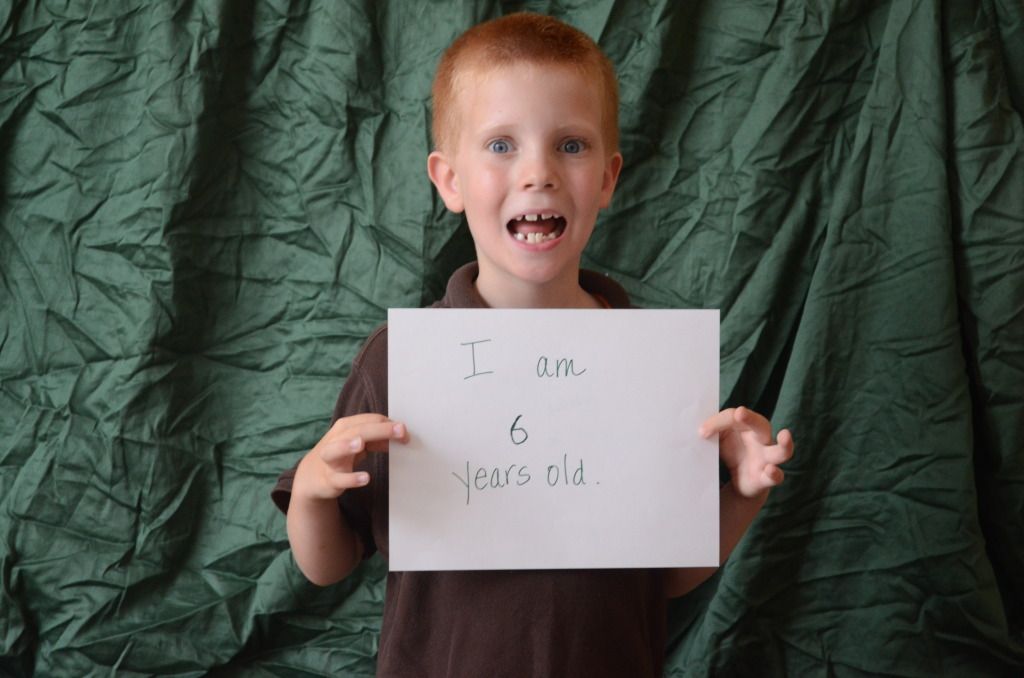 Wrinkly sheets make awesome backdrops- when done by someone else.
Then I remembered this Ikea fabric (technically bedsheets) I had purchased with the intent of using in the schoolroom as curtains (which they are currently not doing).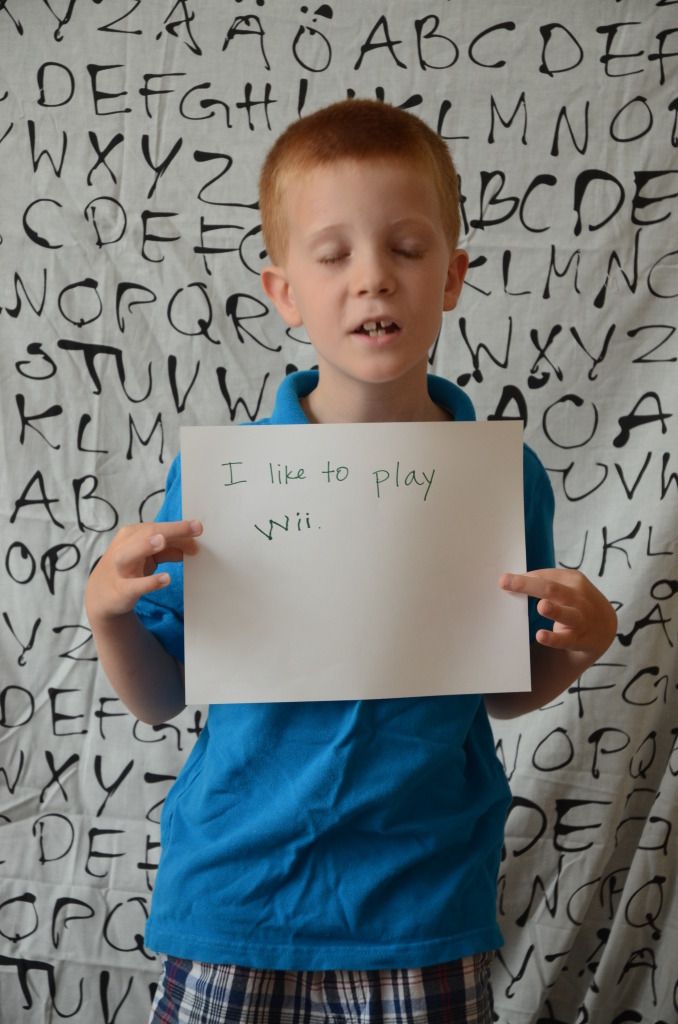 I think we are getting there!
When I took the pictures, edited, and did the collage I ended up with this:

Something is still not right.
While it looked great, I still was unhappy with something. The paper. It just didn't do "it" for me. I wanted something more substantial. So I very nicely asked my husband and he used his router to make me two speech bubbles out of mdf. I then painted them with chalkboard paint and we had our something more substantial.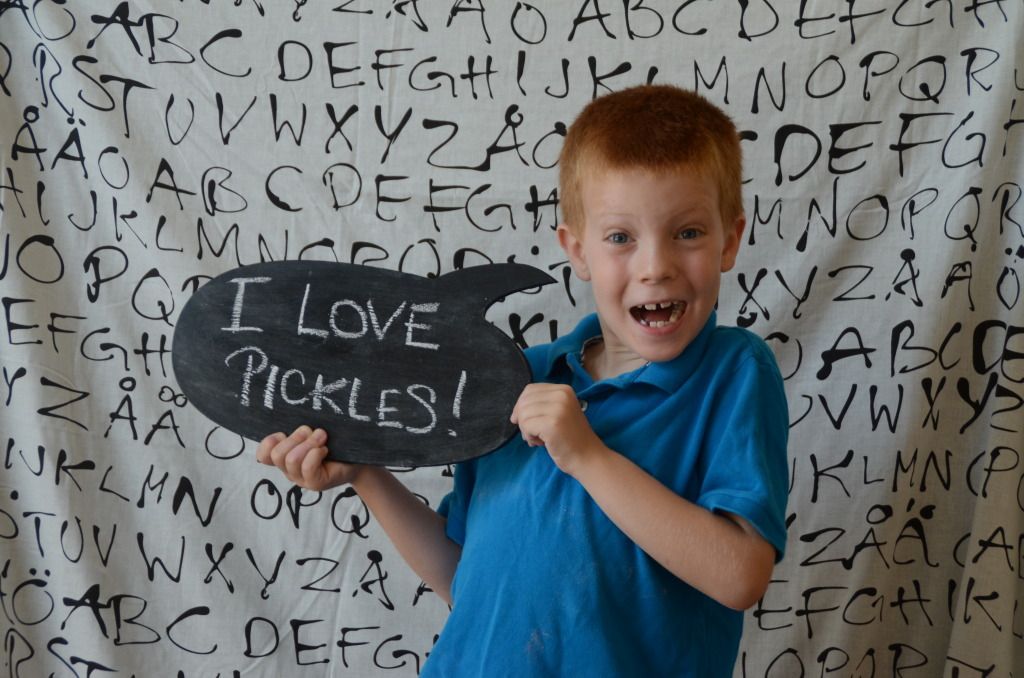 Winner, winner, chicken dinner!
I was so happy with the results. I even let the little brother get in on some of the photoshoot action.
Meet two year old Tebow.
I was able to shoot all nine photos in about 30 minutes. I took away some things I learned and hope can help you too:
1) Try to make sure the lighting is even in all shots. I used natural morning light in the dining room and since the time period was within 30 minutes the light didn't move that much.
2) Keep your student in the same area for each shot. I was able to use the letters in the sheet to gauge where his head should be for each time.
3) Help your student be expressive in his/ her pictures. Using the same smile (while lovely) over and over again isn't as interesting as grinning for your favorite food. To help, I had Fuller read each sign (with emotion), which changed his expression each time.
4) Shoot horizontally. I was tempted to shoot each picture vertically (portrait style) but this worked against me when making the collage.
5) There are lots of ways to make collages on the internet. When I did it last year, I used picnik.com (which is no more) and I plan on using picmonkey.com this year. Photoshop users can probably find collage actions somewhere via google searches.
I hope this helps.
It was so fun to give Mrs. K this picture last year: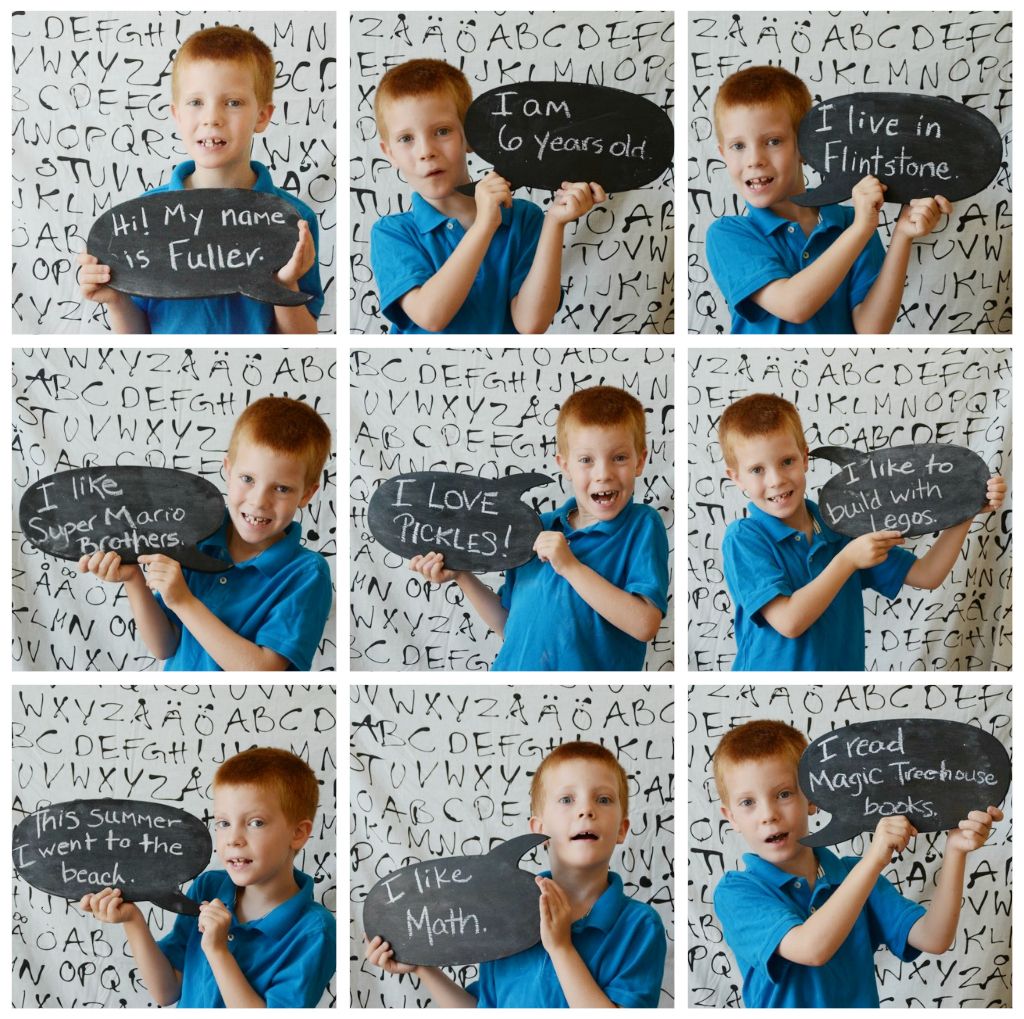 And I look forward to doing it again this year (and I'll post it when I get it done).